Changes to Hotel Design in Post-COVID World
Last year proved to be a growing point for resorts and hotels that focus on technology, sustainability, and improved customer experiences. Now more than ever, guests are visiting hotels and resorts to escape from mundane everyday life. They look for this when planning their trips or vacations. Unfortunately, the COVID-19 pandemic has changed the way people think about hotels and below, we've come up with some of the trends to consider in future projects. 
PHOTO-WORTHY EXPERIENCES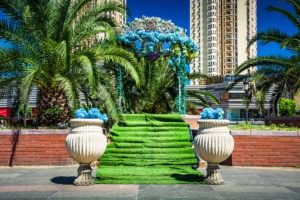 Guests want to capture their memories in photo form and most importantly, share it in spaces others will see and they can remember years to come. Social media has become a tool not only to connect with others, but to catalog memories. Businesses who allow guests spaces to capture unique photos will be able to benefit as well with brand awareness and instant recognizability. 
Cohesive design that tells a story, brings out-of-place wonder, and showcases one-of-a-kind art are some of the things people look for on their day-to-day on hotel property. These areas are for guests to snap a quick photo and then carry on with their day.
For example, Walt Disney World Resort is highly Instagrammable. Its timeless designs and storytelling offers different picture-op spots for guests at almost all of their hotels that fit in with the theme. Some examples they use are synthetic and natural custom designed props, wall art, and topiary. When guests share photos, it spreads brand awareness and makes spots like that an iconic part of the guest experience.
The Supply Scout proudly works with designers and architects to plan for these photo-op spots. We have the ability to assist with metal design, supply natural and synthetic materials for accent pieces, and create the perfect synthetic topiary for any hotel theme.
INDOOR MEETS OUTDOOR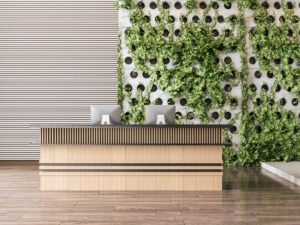 One of the most interesting hotel design trends to watch is the move to bring the outdoor experience to hotel lobbies and corridors. 
Designers continue to blur the lines between the interior and exterior spaces. They integrate indoor and outdoor spaces with each other, promoting guests to stay on property more often and keep the foot traffic keen to the resort.
In 2020, hotels will be seeing more indoor waterfalls, all-season terraces, rugged outdoor-style furnishings, gorgeous plants, nature-inspired textures and aesthetics. By utilizing rustic styles such as wood beams, bamboo accent walls, or even synthetic topiary inside design becomes more friendly and characterizes the overall feeling of the hotel better than previous sterile and cold designs.
IMPROVED SPACES FOR SAFETY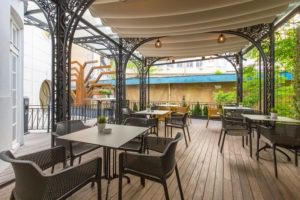 One of the main concerns of guests in 2020 are sanitation and safety measures of hotels. Hilton Hotel raised the bar when it partnered with Mayo Clinic and RB (maker of Lysol) to develop world-class sanitizing methods. Hotels that adapted quickly and efficiently to health concerns were the ones that yielded the most public trust. Beyond sanitation concerns, trends with new social-distancing regulations are kept in the forefront of layout and hotel design. 
Bruce Greenfield of AO Architects has this to say: "Hotel operators must apply social-distancing practices to the layout of furniture in public spaces, providing more intimate settings spaced appropriately apart to create the ability for different groups and families to share the grand spaces of the hotel, but with their own private, safe enclave."
At the Supply Scout, we are dedicated to help hotels serve their guests with the utmost concern for safety measures. Some examples we have seen are: outside seating areas re-done completely with the use of shade sails, and sanitation stations designed with wood-framing to match hotel aesthetics seamlessly. 
THE NEW NORMAL WON'T BE SO NEW AFTER A WHILE…
These design trends will have a significant impact not only in 2020, but also in years to come as we continue to embrace change with safety precautions and provide experiences that retain guests hotel grounds. Contact us online or reach out to our global sales team at 407-499-3879 to get started implementing future hotel projects.